NEW: AABO-IDEAL GmbH
AABO-IDEAL and AB Anlagenplanung GmbH has merged
It is with great pleasure that we are able to disclose that as of 1 April 2023, AB Anlagenplanung GmbH have chosen to become a part of AABO-IDEAL GROUP, ordinarily known as AABO-IDEAL.
The merging of the two companies provides a completely unique starting point for strengthening AABO-IDEAL's position as a strong and productive supplier on the German market.
AB Anlagenplanung GmbH has many years of experience from the surface treatment industry as a consultancy and, consequently, is an incredible value-adding match for AABO-IDEAL.
AB Anlagenplanung GmbH's name has changed into AABO-IDEAL GmbH and is now the local AABO-IDEAL division attending to sales and service for the entire DACH region.
A journey of growth focusing on the customers
The merger ensures that we have a stronger consolidated set-up in the DACH region and is one more step towards strengthening AABO-IDEAL's international journey of growth.
It is important to us that together with our customers, we create solutions that add value. We ensure this by offering the customers competent advice based on many years of know-how, which leads to the delivery of a customized system and a strong local presence.
AB Anlagenplanung GmbH and AABO-IDEAL – a value-adding synergy
In recent years, AABO-IDEAL has delivered a number of projects in cooperation with AB Anlagenplanung GmbH. Their professional approach combined with deep professional knowledge has made it easy for us to deliver a quality solution every time, meeting the customer's needs and requirements. All of this means that we find AB Anlagenplanung GmbH a good match for us, and a strong starting point to becoming even more visible on the German market.
It has been important for AABO-IDEAL to be established locally with staff that can attend to existing as well as new customers from the outset. The merger of the two companies provides a good basis for synergy between know-how and resources. It means that our customers in the DACH region had competent and incredibly dedicated German-speaking contact persons within sales, support, and service from the first day.
We are certain that with our expert knowledge, design and layout experience within wet paint, powder coating, and KTL, supplemented with associated ventilation solutions that ensure energy-friendly operation, the new local division in Germany will be an attractive and reliable partner for our customers.
Over the past years, AABO-IDEAL has experienced a strong demand for our GO GREENER concept, which consists of scalable modules on the system resulting in significant energy and CO2 reductions. We are convinced that the GO GREENER concept is also attractive for customers in Germany.
A strong worldwide set-up
AB Anlagenplanung GmbH becoming a part of AABO-IDEAL means that we are now represented by sales and service companies in Denmark, Sweden, Poland, Mexico, Czech Republic, and Germany. Combined with our competent agent network in the rest of the world, we make sure we are close to our customers and can offer fast service when required.
Kind regards
Gynter Lorenzen
CEO, AABO-IDEAL
Contact information for AABO-IDEAL GmbH:
Oliver Leifholz, Regional Sales Manager       send e-mail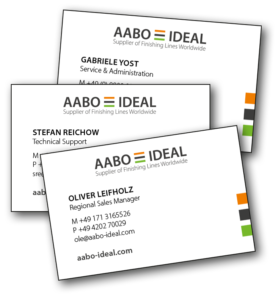 Phone: +49 171 3165526
Gabriele Yost, Service & Administration         SEND E-MAIL
Phone: +49 4202 70029
Stefan Reichow, Technical Support                SEND E-MAIL
Phone: +49 1514 6732417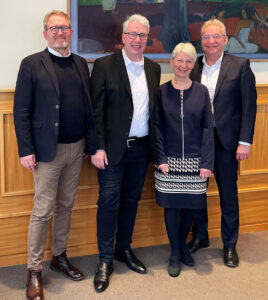 From left: Lars Hjortebjerg (CFO), Oliver Leifholz (SALES), Gabriele Yost (SERVICE), and Gynter Lorenzen (CEO).