Once upon a time there was a boatyard
Way back in the year 1900 our company started as a boatyard under the name Ideal-Line. In 1908 a marine engine repair shop originated indirectly from the boatyard, and for many years the company supplied small reliable motors for fishing boats.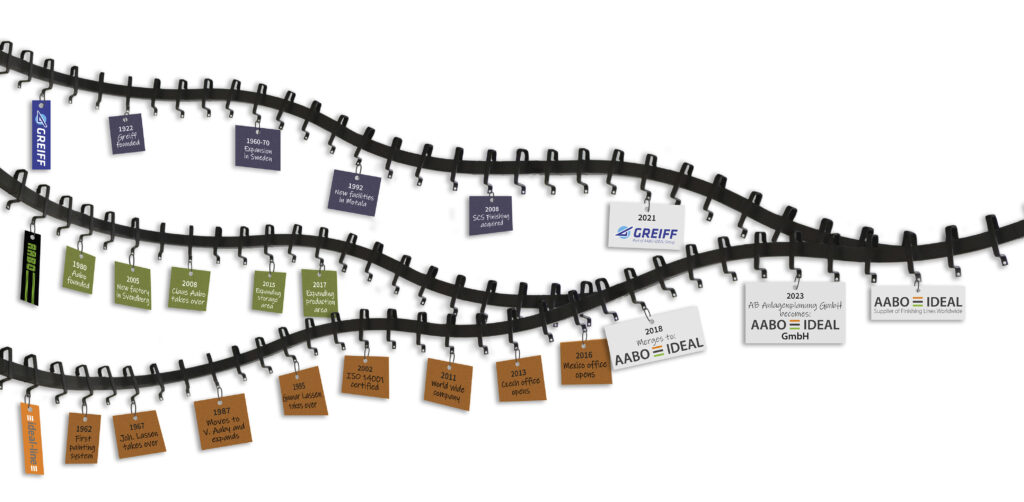 Innovation and lateral thinking
In 1957 Mr. Johs Lassen joined the company and his primary focus was to develop these motors. As the boat market deteriorated, it became more and more difficult to sustain a small production of motors for boats.
Mr. Johs Lassen therefore decided to start a subdivision producing special machines for the industry. This meant that a wealth of special machines was produced over the next decades.
The very first finishing system
In 1961 a producer of gas cookers wanted a finishing line for powder coating. This was the very first plant produced and delivered from Ideal-Line, and the beginning of the modern company we know today.
In 1995 Mr. Gunnar Lassen took over the management of Ideal-Line after his father Mr. Johs Lassen, who stayed a part of the company until 2017.
A new player in the market
In 1980 Mr. Erling Aabo Andersen founded the company Aabo Andersen A/S, a new and competing player in the market of equipment and plants for surface treatment.
As it turned out, the world market had room enough for both companies, and as a consequence Aabo Andersen A/S was able to celebrate a grand opening of new and bigger facilities in Svendborg in 2005.
In 2008 Mr. Claus Aabo Andersen took over the rapidly growing business after his father Mr. Erling Aabo Andersen, and within a few years the facilities in Svendborg had been expanded several times.
The happy alliance
The clever idea to expand and strengthen two otherwise competing companies by merger occurred at some point during 2017. Before the end of 2018, Mr. Gunnar Lassen and Mr. Claus Aabo Andersen signed the paperwork, and a happy and strong alliance with a brand new name was born: AABO-IDEAL A/S.
One more step on the journey of growth
In 1922 the company Greiff was founded in Norway, designing and developing facilities for industrial painting, and a few years later a branch was established in Sweden.
During the 1960s and 70s, the business expanded strongly and moved to Vadstena in Sweden. In 1992 the company moved into new and modern facilities in Motala, Sweden, now having product development, administration, and manufacturing under one roof.
Greiff Industrimiljö AB later became a large supplier of painting plants for both wet and powder paint as well as filters and spare parts in Sweden and the rest of Scandianvia.
The plans to expand and grow for AABO-IDEAL and Greiff respectively, led to the idea of a very beneficial merger of the to competitors. In May 2021 it was announced with great pleasure that Greiff now was a part of the AABO-IDEAL Group.
AABO-IDEAL – a strong and close partner
Today AABO-IDEAL is an even stronger company, and one of the world leading suppliers of finishing systems. We have a large and efficient service setup, and we are very close to our customers, which results in an a short response time, and fast delivery of spare parts, service and support.
Our strategy for growth is ambitious and continuous, giving us the incentive to be an even greater specialist in lifting all types of projects within systems for surface treatment.