AABO-IDEAL and GREIFF have joined forces
Together we are even stronger in Scandinavia
and world wide
It is with great pleasure we can inform you that Greiff Industrimiljö AB as of 31/5 2021 has chosen to be a part of the AABO-IDEAL GROUP – also known as AABO-IDEAL.
Both companies have for decades been significant players within surface treatment lines in Scandinavia, and as a whole the two companies have over the past 30 years delivered more than 3000 lines world wide. In many ways the companies are similar, but each with their own strengths and competencies complimenting each other, which ultimately benefit the customers.
We look very much forward to our onward journey with Thomas Petersen and the rest of the team at Greiff on board. Thomas Petersen will continue to manage the daily business at the Greiff department in Sweden, and he will be responsible for supporting the wet paint technology world wide.
A journey of growth with focus on know-how and the best portfolio for the customers
The merger ensures a stronger consolidated setup in Scandinavia as well as world wide, and is one more step on the journey of growth started 3 years ago by IDEAL-LINE and AABO, today being AABO-IDEAL.
It is important for us that our customers are offered a portfolio with the best and the most complete supply within design, delivery and servicing equipment for surface treatment.
A strong service setup
Furthermore, with Greiff situated in Sweden and AABO-IDEAL situated in Denmark, Poland, Mexico and Czech Republic, we ensure that we are even closer to our customers, and thereby can offer even faster service when needed.
With this merger we have become a supplier in the surface treatment industry with a unique broad expertise within plants for powder coating, e-coat, wet paint, energy optimization and solutions for ventilation. This makes us an even better partner to our customers.
Everyday life
Both Greiff and AABO-IDEAL will continue their daily operation unchanged. Going forward Greiff will be marketed as Greiff – part of AABO-IDEAL GROUP. We will intensify the cooperation and take advantage of the synergy between the two companies wherever it makes sense. Current cooperation with our customers and suppliers will continue unchanged.
The Sales and Service Team in Sweden
Going forward, Henric Fagerlind from AABO-IDEAL will be responsible for sales of powder coating and e-coat lines in Sweden. Sales support, service and spare parts regarding wet paint lines will be operated from the Greiff office in Motala.
We look very much forward to meet all our joint customers in the future.
We will be at your disposal for a talk, or an interview should you need more information.
Best regards
Gynter Lorenzen, CEO, AABO-IDEAL and Greiff,
Mail: ggl@aabo-ideal.com. Phone: +45 2810 1155
Thomas Petersen, Greiff.
Mail: thomas.petersen@greiff.se. Phone.: +46 702 710 720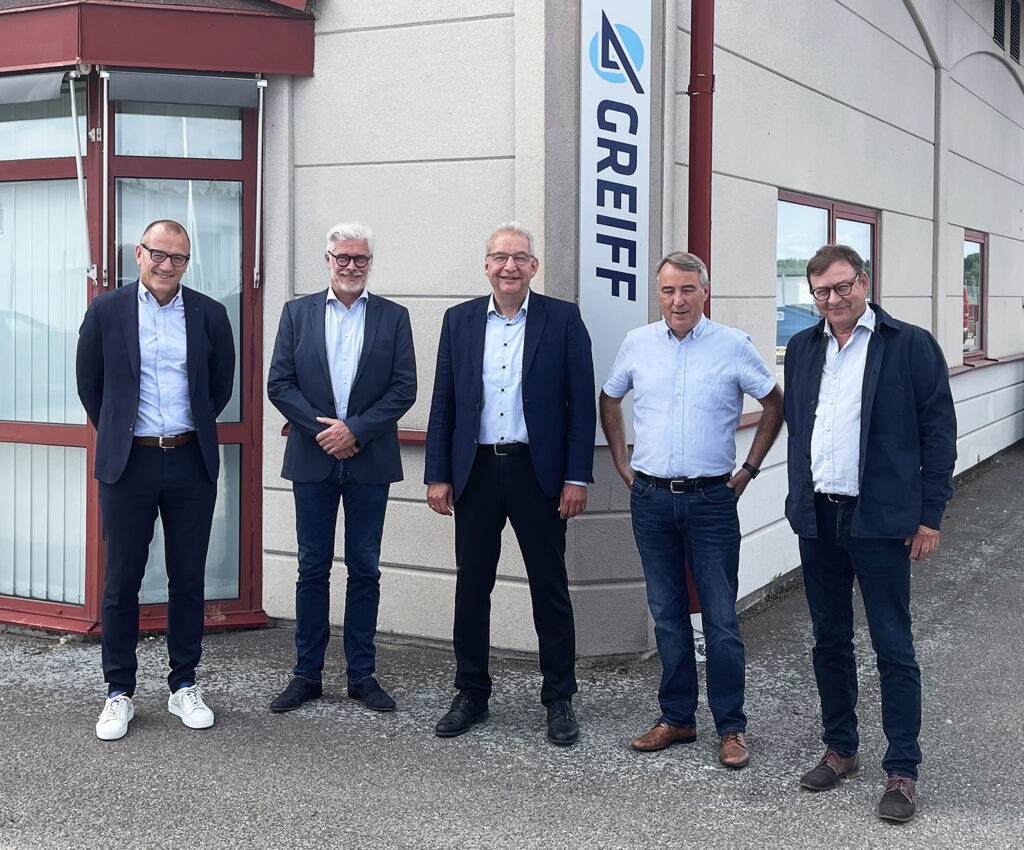 Left to right: Bo Dybbro, CFO, Claus Aabo Andersen, DACH, Gynter G. Lorenzen, CEO, Thomas Petersen, Greiff, and Hans Henrik M., Greiff.